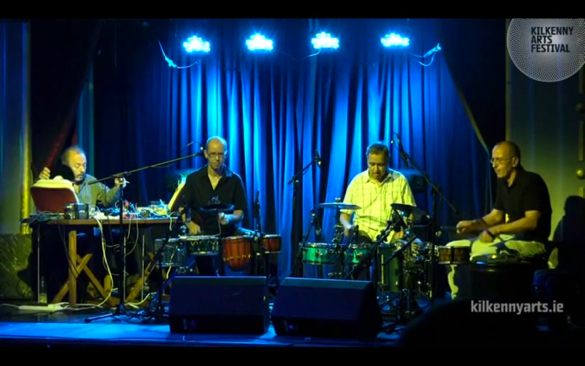 Tonight's gig sees two seismic forces at the frontline of modern music team up for an extraordinary sonic voyage.
Drums Off Chaos are unlike any other band. Since 1982, Jaki Liebezeit, Reiner Linke and Maf Retter have been creating headspinning storms of multi-layered groove using odd meters and unconventional rhythms. Liebezeit is best known as the beating heart of Can (whose frontman, Damo Suzuki, took the Set by storm last year), and his culture-changing rhythms have been required fuel for the likes of Brian Eno, Chet Baker, Eurythmics and many more.
Together, Liebezeit and his fellow master drummers play like a football team talented enough to have stayed in the Premiership for 30 years, improvising on self-made instruments with a sensitivity and fluidity which is nothing short of psychic. This is powerful, hypnotic, life-affirming music.
For Kilkenny they team up with award-winning turntable artist and composer Philip Jeck, who creates seductive, crackling soundscapes from salvaged vinyl. It's a world into which you drift gently, following each thread of melody through veils of repetition and delay. This unique collaboration promises to be one of the most memorable and groundbreaking shows of the festival. Bring your dancing shoes!