Live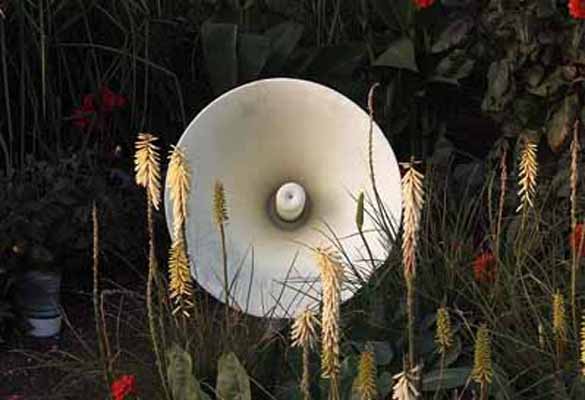 POWER PLANT
Liverpool, Calderstones Park
8 – 12 October 2008
Deep in the park, as dusk falls, old gramophones spin glittering sounds whilst clicking insects cast vast moving shadows. Haunting whistles rise and fall and luminous balloons breathe gentle sighs. A Victorian glasshouse shudders, and sparkling flowerbeds
dance to their own tune….
For five nights, the Victorian leisure gardens of CalderstonesPark, Liverpool will be transformed into a bewitching nocturnal world with one of the largest audio visual installations ever to come to Liverpool.
Presented by the Liverpool Culture Company as part of the 2008 European Capital of Culture programme, Power Plant takes over the Park for some magical botanical activities in which sound and light are used to create glitchy insects, dramatic weather, mechanical plants and the sound of the earth's energy. The gardens and greenhouses will be transformed by 20 different installations, and audiences are invited to wander around this mysterious world.
Light Insectsclustered 20 feet up in trees utter cicada like sounds, their beautiful moving shadows cast on the ground below. Weather balloons implanted with single note harmonicas, breathe out and re-inflate to conjure a natural organ. Bang, a loud pyrotechnic crack of thunder coincides with a brilliant blaze of lightning that cuts through the trees and bushes. A Kinetic Flowerbed of 150 dainty mechanical flowers spin their rainbow of colours in the EnglishGarden. At the centre of this special botanical world, the glasshouse becomes a slowly pulsating beacon of light, casting monstrous shadows of foliage and vegetation coupled by deep rumblings from light synthesisers that conjure the subterranean movements of the earth's crust.
Power Plant was originally commissioned by Oxford Contemporary Music together with University of Oxford Botanic Gardens. It has been created by Mark Anderson, Anne Bean, Jony Easterby, Kirsten Reynolds, Roguewave and Philip Jeck – artists working at the forefront of creativity The installations heighten the audience's awareness of sound and light, our primal receptors on high alert in this night time setting.
The project finds inventive ways to use technology, both old and new. Gas jets triggered via electronic sequencing manipulate sound and flame, other more tranquil installations send images of rippling water reflecting onto garden walls.
Power Plant is part of Liverpool's European Capital of Culture celebrations, programme which has been running throughout 2008. It is the first project that has taken place in CalderstonesPark.
DATES:
Wed 8 – Sun 12 October
LIVERPOOLCalderstonesPark, Menlove Avenue, Mossley Hill, L18 3JD
7.30-10pm 8 Oct: Tickets
£3. Family ticket £9
9-12 Oct: Tickets
£5 / £3 concs & in advance
Family ticket £12 / £9 concs & in advance
On sale from 1 September 2008 from www.liverpool08.com
Notes:
Family ticket: 2 adults + 2 children OR 1 adult + 3 children
No concessionary advance discount. Audiences are advised to bring warm waterproof clothes.
Produced by Simon Chattertonfor Contemporary Music Network
Useful websites:
www.powerplant.org.uk
www.cmntours.org.uk
www.simonchatterton.co.uk
For further press information please contact:
Polly Eldridge / sound uk, P: 020 7375 0025, E: polly@sounduk.net, www.sounduk.net